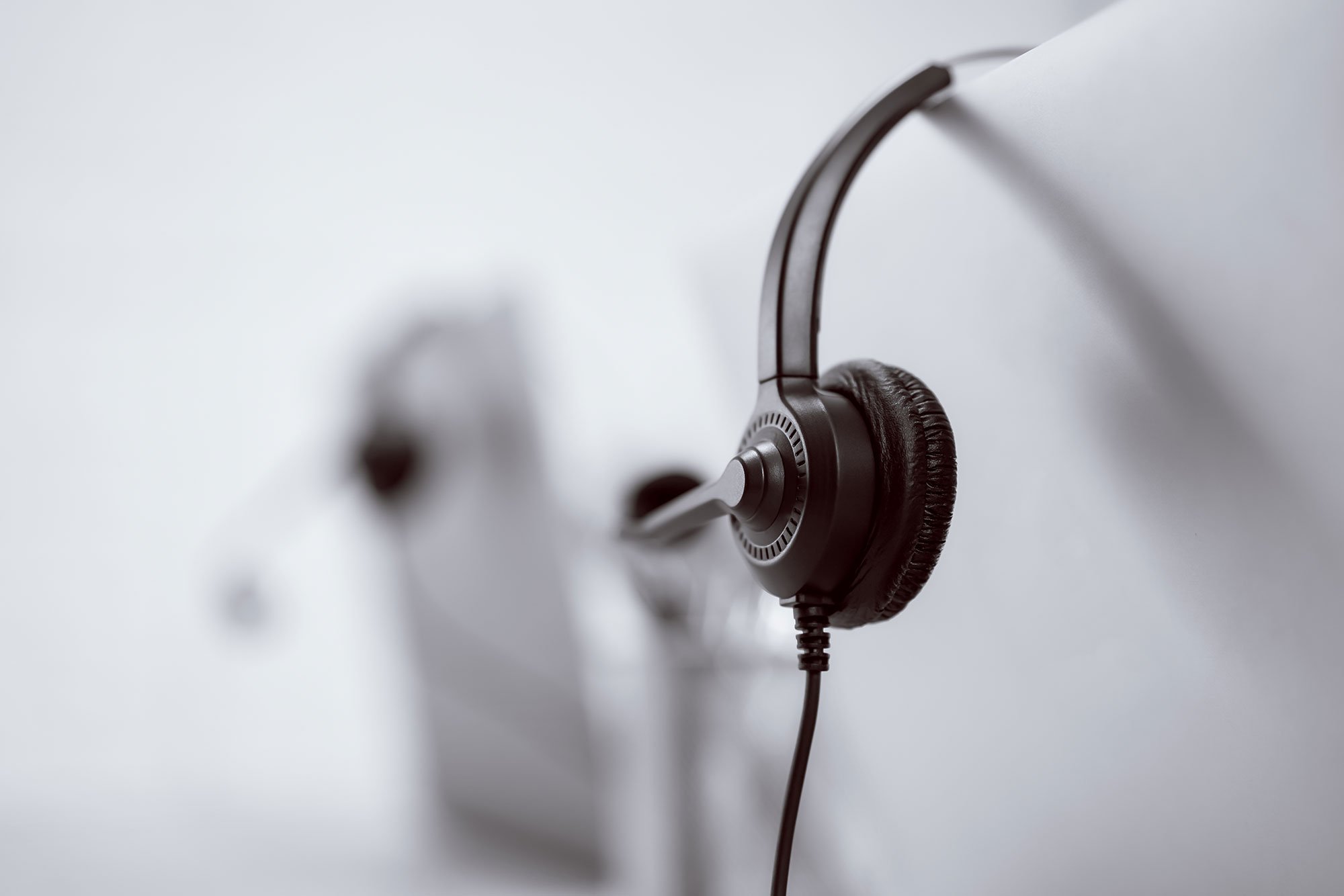 We're here to help
Get the support you need to eliminate display downtime and keep your business running smoothly.
Support to keep you up and running
We know your sign is a key marketing tool for your business, and outages are a major problem. So we developed a world class in-house team and built ease of support into our product to help you get back up and running faster. From software to display, our support team is here to help diagnose the problem and find the solution so you can get back to business as usual.
Support is available Monday-Thursday 8a-6p EST and Friday 8a-5p EST to take your calls and emails.
You can reach the support team by phone at (877) 636-2331 ex2, or by email at support@cirrusled.com
Short
Hold Times
Cirrus LED Support hold time is less than 3 minutes on average.
Fast Issue
Resolution
Many minor issues can be resolved within the hour.
Built-in AI lets us diagnose issues remotely and prevents unneeded service visits, saving you money.
Field Support Technicians
Our in-the-field team helps train and support our installation partners.
Partner Field Support
We are always looking for ways to help our partners grow their businesses, so we've launched our Field Service Technician program. This team has two purposes, to provide support to our partners and help you become rock stars with Cirrus products. This expert team can supply your shop with best practices, training, on-site installation support, and will validate installs to help make every project a success and avoid warranty issues.
We'll work with your team to grow them into experts on Cirrus products and make them feel confident when working with our hardware. If you'd like to learn more, please call your local Cirrus representative to see if we have a Field Service Tech in your area.
Support Frequently Asked Questions
How much power does my sign take?
Because our signs are a completely modular system, each sign requires a different amount of power. Your quote will contain the exact power requirements for your sign. If you cannot locate your quote, contact the Cirrus support team for assistance.
My sign requires multiple lines of power. How do I connect a power booster?
A power booster has 3 ports. It connects just like our panels do, with an input and an output. Simply mount the injector in the location of the panel daisy chain you need to supply power to and connect the output of the first panel to the input of the booster. Then take the provided cable and connect the output of the booster to the input of the next panel. Then connect the provided power cable to the remaining slot, and connect it to a power supply.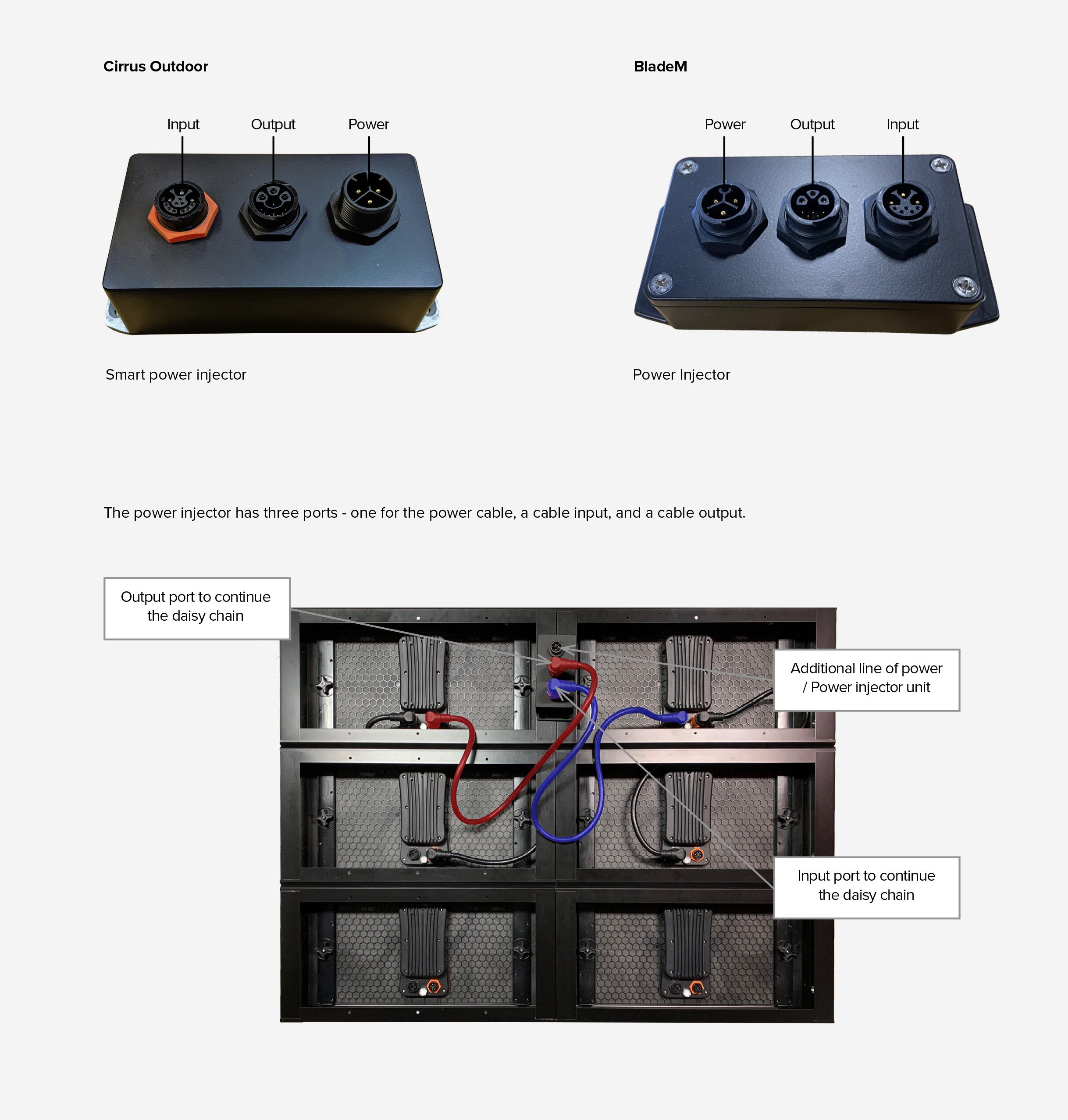 Why can't the sign share a circuit with the lightbox?
All LED signs contain sensitive electronics. As such, they require a dedicated circuit to ensure that there are no other devices interfering with the sign's supplied power. Additionally, it is required to maintain an active warranty.
Which ports do I connect the antenna wire to?
The ports labeled Mobile should have the red LTE cables connected. Wifi takes the black leads, and GPS takes the blue lead.
Who pays for my time on service calls?
The standard warranty covers parts only. However, we also offer Cirrus Complete, our optional labor warranty, which includes reimbursement for service calls.
What is the support contact information?
You can reach the support team by phone at (877) 636-2331 ex2, or by email at support@cirrusled.com
How/when does my end user get trained?
Once the sign ships, we reach out to the customer using the information provided at the time of purchase. We will make their account, and help them get scheduled for 1-on-1 ScreenHub training.
Can I pre-build the sign in my shop before I bring it on-site?
This can be done, but there are a few things to note. Ensure that when powering the sign, you have proper electrical for the sign to run. Once testing is complete, do not ship the sign fully assembled, as any damage incurred from transporting the sign while assembled will not be covered by your warranty.
What cell provider do you use?
We partner with AT&T to provide cellular coverage. We have some alternative options we can provide on a case-by-case basis. Be sure to ask your sales rep before purchasing.
I don't have service for that provider in my area. What other network options do I have?
All of our signs are compatible with Wifi and ethernet as well. If opting for wifi, our pre-programmed wifi kits provide a wifi signal from any nearby building, to the sign, up to 500ft away with a clear line of sight.
Can the panels be mounted vertically?
No. Our panels are designed with a specific viewing angle in mind. If mounted vertically, visibility is severely diminished, and the software is not compatible with the sideways design. If you wish to create a sign that is taller than it is wide, simply arrange the modules in the proper horizontal configuration one on top of the other to create the shape you desire.
Why do I need to ventilate the sign? Isn't that going to allow water onto the components?
Cirrus signs have no moving parts, which means no fans or other active cooling mechanisms. Passive ventilation is essential to maintain a cool operating temperature. Please see your manual for specifications.
How do I mount the sign to a monument/single pole/double pole?
We cannot comment on installation, please consult a fabricator to determine how you will mount the sign.
I just installed and powered up my sign, now what?
You should run the automap/self-test by holding the user button on the controller down for 6 seconds, you should see a diode rainbow test, and a network diagnostic screen. Your end user can immediately display content from their ScreenHub account and use the sign as long as both of the tests are good. If you run into any snags, please contact support.
How do I remove/install a panel from the front?
There is a 2.5mm Allen key access hole in the front of every panel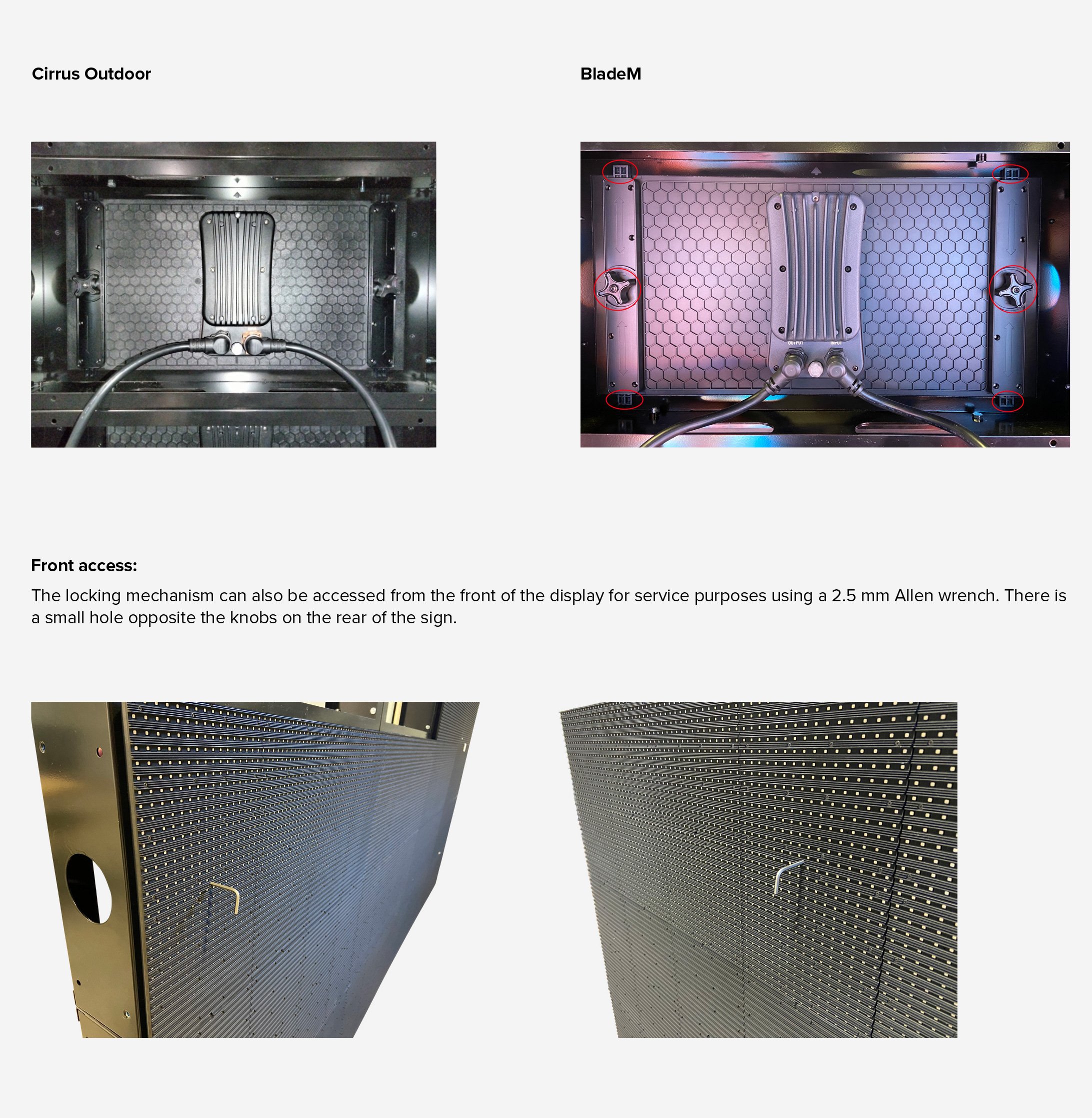 Can I do a live video feed?
You cannot display a live video feed at this time.
How long is the warranty coverage, and what does it cover?
The warranty is active for 5 years, please check your manual for coverage details.
Installation and warranty information
COMING SOON
Partner Portal

The partner portal will allow sign shop partners to see all their open tickets and check the status of warranty claims. It will also offer educational resources for selling and maintaining Cirrus products.

Support App

The support app will offer access to resources that will help troubleshoot problems, activate warranties, and view additional documentation.