As climate change continues to affect our lives and our planet, it is no surprise that sustainability has become an increasingly important issue for people and businesses alike. At Cirrus LED, we have committed to becoming a more sustainable manufacturer to reduce the negative impact we may have on our environment.
Last year we undertook the first steps in our sustainability journey. We covered the roof of our manufacturing facility in solar panels. Why start with solar? According to U.S. Energy Information Administration, manufacturing accounted for 36% of total U.S. end-use energy consumption. In comparison, residential consumption only accounts for 22%. It made sense to take a step back and look at how we consumed energy and how the energy we consumed was produced.
In 2020, only 19% of New Hampshire's electricity generation came from renewable resources, while the rest is generated through wood and waste and nuclear energy production.
"Implementing a renewable energy strategy today isn't just about company image or even limited to ecological stewardship. We are in an economic climate of unstable and rising electricity prices. Internationally, fossil fuel energy security is at a low point. As a result, we have seen our grid-bought electricity prices go up 40% within a year." - David Rycyna, CEO, Cirrus LED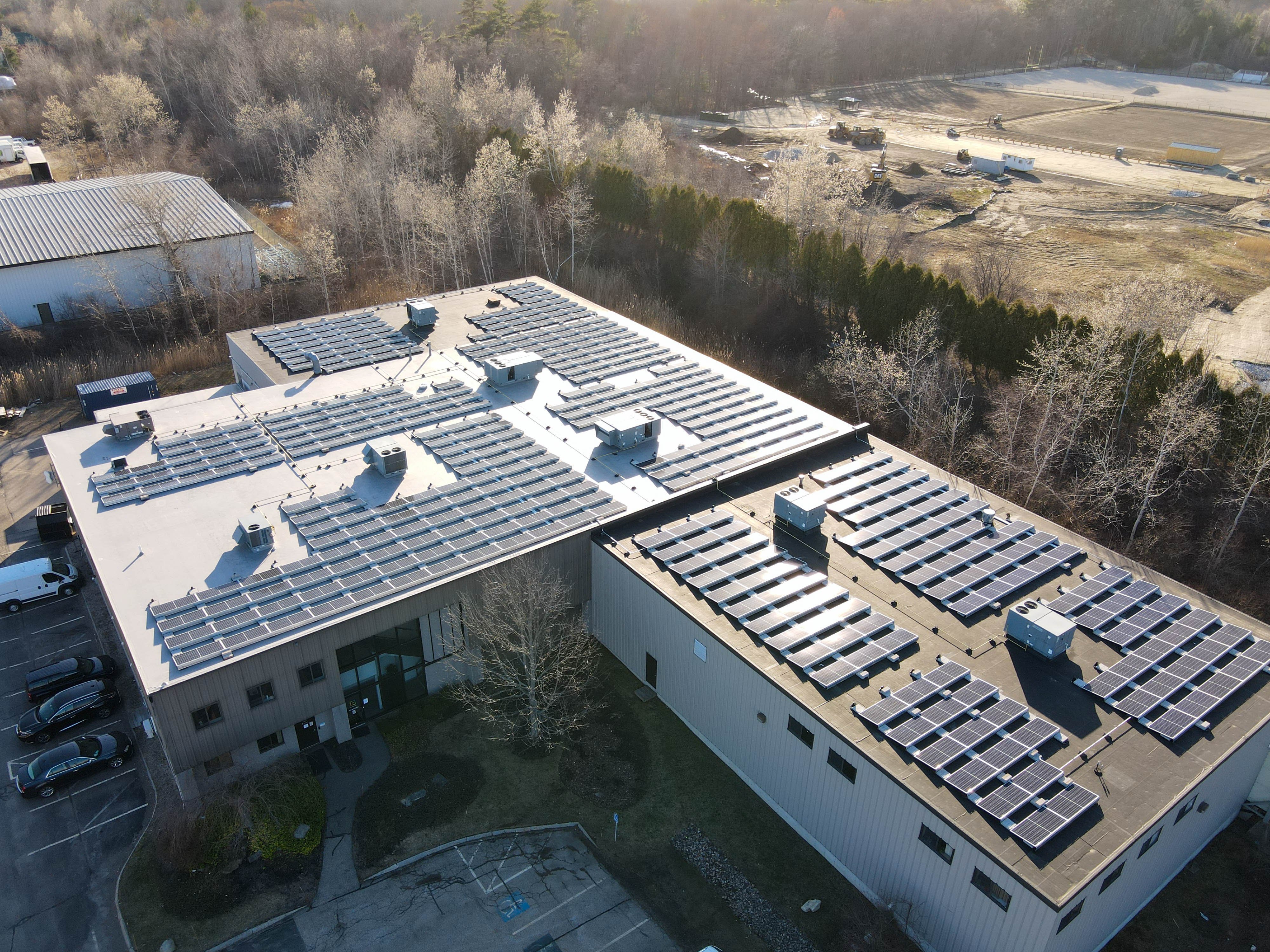 ---
Want to learn more about Digital Signage?
Signup for the monthly Cirrus Newsletter today!
---
Doing Well by Doing Good
In 1994, John Elkington coined the phrase "Triple Bottom Line"- a business framework that consists of three components - people, planet, profits - rather than focusing solely on the bottom line. The idea of TBL is that everything we do needs to be profitable for the business and good for the environment and the people who live in it.
When David Rycyna founded Cirrus LED in 2011, he saw a way to use technology and innovation to build better LED products by reducing manufacturing costs, removing complications, and making on-premise marketing more obtainable for every business and organization.
In 2021, he realized that we could reduce our carbon footprint and increase profitability, allowing us to grow and continue to add jobs.
"Solar was a no-brainer for maintaining profitability. Being profitable offers stability to our current employees and allows us to grow and, in turn, create more jobs." - David Rycyna, CEO, Cirrus LED
We also understand who you work with on these projects matters, so finding the right partner on this solar journey was vital. We chose the experts at ReVision Energy, a certified B-Corp, also located in New Hampshire. For anyone unfamiliar with a certified B-Corp, it is a company that has earned a certification to prove it is meeting a higher standard of transparency, accountability, and performance on factors from employee benefits and charitable giving to supply chain practices and input materials. ReVision Energy is an employee-owned solar company on a mission to transition businesses and residents from fossil fuels to renewable energy. A mission we support and believe in.
Working closely together, they helped us install the 186-kilowatt solar project in February of 2021. Since the panels were installed, the 428-panel array has offset 334,000 pounds of CO2, which is equivalent to planting 2,500 trees! This also amounts to 33% of the electricity we use and is an excellent start on our path to more sustainable manufacturing.
"As a manufacturer, we tend to use electricity most during the day, meaning intermittency isn't even an issue to maximize the use of the system. It is phenomenal." - David Rycyna, CEO, Cirrus LED
As we mentioned, this is just the first step. Since the switch to solar, we have also begun installing electric vehicle (EV) charging stations, which employees may use to recharge their cars. This project aims to continue adding charging stations and supporting our employees as they move to electric vehicles. Our free charging stations help make their commutes carbon neutral.
While we understand we still have a long way to go, we are excited about the steps we have already taken. Every step we take creates excitement and an extraordinary sense of achievement that it inspires us to look for what we can do next. Whether for the planet, the people around us, or both we are fully committed to finding ways to do better.