ScreenHub Help Section: New and Improved Features
After months of hard work and feedback from End Users like you, we're proud to announce our expanded and updated Help Section! Every section has been rewritten from scratch to include detailed explanations of each and every ScreenHub feature along with updated image and video guides. Some notable additions to the page are our brand new Workspace and Downloadable Guides sections.
Introducing Workspaces:
The Workspace function serves two purposes. The first allows you to add multiple users to create/edit playlists and upload media. The second lets you separate multiple displays into their own workspaces. Our new Workspace Section will walk you through both processes from start to finish.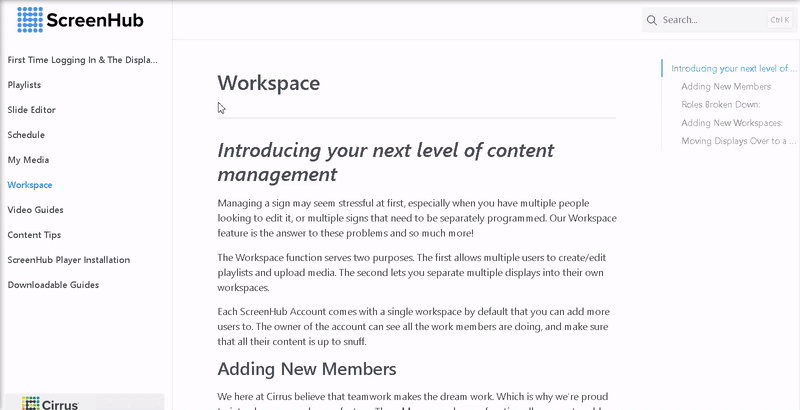 Expanded and Improved:
For our existing features, we took all the feedback sent in from End Users like you, and expanded our guides to include answers to common questions along with more in-depth guides and accompanying images. In running content on your sign, the help section offers solutions for effective color usage in led display ads, typography tips for led screen advertising and tips for creating compelling content for led billboard advertising.
Our Slide editor section by itself features over 50 screenshots. To help navigate all of this new information the search bar in the top right corner will let you look up the feature you desire. The navigation bar on the right will let you quickly navigate each section to find info on whichever feature you'd like more information on.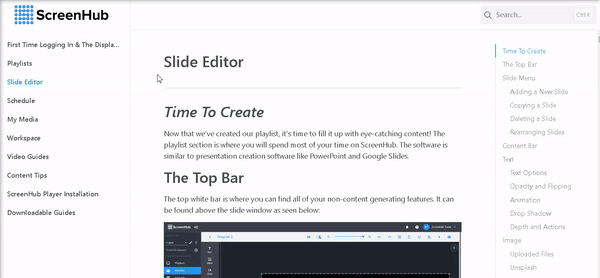 ---
Follow Along With our New Video Guides:
Our video tutorials have been updated as well. These 2-5 minute videos offer a narrated guide of every ScreenHub feature from formatting text to all the way to scheduling playlists. A notable addition to this section is our new Content Tips video which goes over the best practices for sign design and creative advertising ideas for outdoor led displays to your viewers in the fastest most effective way. possible.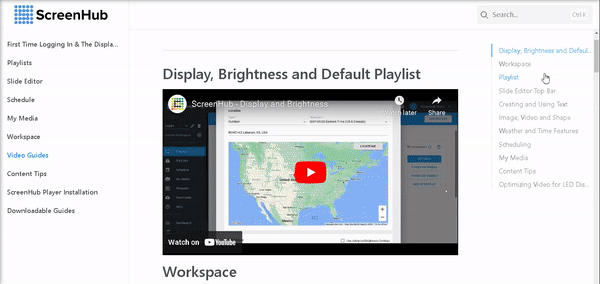 Save to Keep:
Last but certainly not least, we're excited to announce our brand new downloads section! Organized by section, these guides give you an in-depth look at every ScreenHub feature. These guides can be downloaded to your desktop to print and save for future use.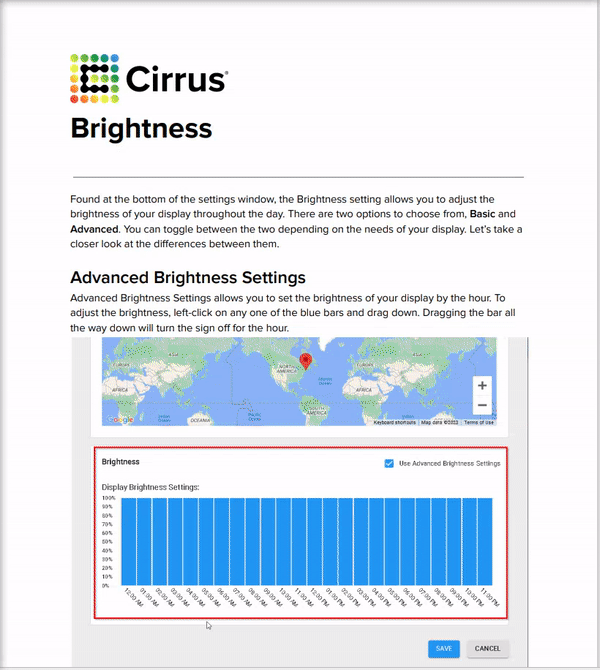 Let us Know What You'd Like to See Next!
We here at Cirrus value your input. For any features you'd like to see in the future on ScreenHub, be sure to contact our onboarding specialist at lroberts@cirrusled.com. To schedule a one-on-one training session use this link here: https://calendly.com/cirrussupport/screenhub?month=2023-07