Digital signage for your business can be a big investment. Sometimes, it's one of the biggest marketing purchases you will make in a year. You want to know if you'll see ROI for adding a major marketing channel outside your business. The surface-level benefits of digital signage are pretty obvious. They help increase brand visibility, are a great marketing tactic, and boost engagement.
There are, however, benefits to digital signage that are less obvious. But these benefits can help you understand the true power of an LED sign. Here are some of the lesser-known benefits of digital signage.
They update easily
Perhaps one of the most significant benefits of digital signage boards is that they can be updated in the blink of an eye. When you use printed advertising, you are forced to wait to update until printing is finished. You need to pay for the printing and then send someone to change the banner or the sign. By upgrading to digital signage, you save paper, time, and money by updating quickly.
Digital signs are easy to control and can be modified within seconds, either manually or automatically. You can update all digital signage you own at once from one platform, making it an effective and efficient means of marketing your products and increasing brand visibility. Services like Cirrus' digital signage software ScreenHub allow you to do so through the cloud with a built-in editor. Or you can upload your own designs directly.
Using AI technology, digital signs can help you boost revenue by identifying the products that are selling fast and those that have seen a drop in sales. Digital signage can then be used to advertise these products, increasing product visibility and boosting overall sales for businesses.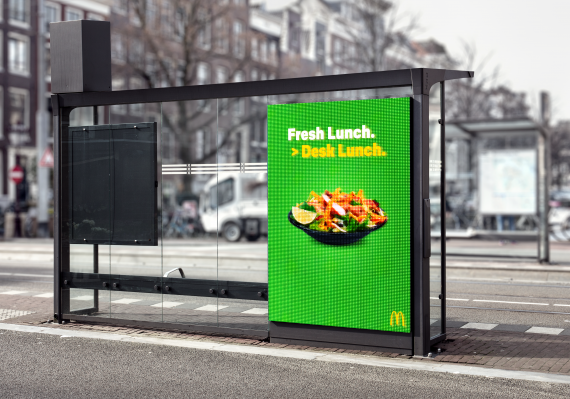 Generate sponsorship revenue
If you're considering the benefits of digital signage, you likely have thought about all the ways you can advertise your own products or services. But what you might not have considered is how you can make digital signage work for you.
Digital signs are all about attention. You can sell ad space on your digital signage boards to help you generate extra revenue while supporting the local economy. Other businesses and third parties may overlap with your target audience, which means that they'll pay you to sponsor them on your boards.
Some signage will even allow you to use programmatic advertising. You can choose what sort of content you want to allow on your sign and let a network of advertisers do the hard part of selling timeslots you set up.
This can be incredibly useful for community centers such as churches looking for fundraising opportunities. Businesses and municipalities can also use this as a revenue stream. You can either keep full control over who gets to use your boards for advertisement by selling slots yourself. Or you can set up parameters for what type of advertising is allowed through programmatic. making it a lucrative opportunity.
They allow for lower perceived waiting times
Nobody likes waiting in line, especially not your customers. Long waiting times can cost you revenue. A customer who sees a long wait or who waits too long may go elsewhere to do business.
Digital signage can help you counteract this. People have a much easier time waiting if they're busy or engaged, and digital displays can help with that. If you've got a retail business, make sure that you place LED signs near tills to distract your customers with videos and other engaging content. You can display information about your products and services or add other elements to them, such as the news or weather. This will make customers feel less frustrated while waiting in line, leading to higher retention rates.
If you want to learn more about digital displays or content management software, get in touch with us at (877) 636-2331 or email us at contact@cirrusled.com. As electronic display manufacturers, we've helped churches, restaurants, retail stores, and more find the right sign for their organization. Whether you're looking to go big with your digital sign, or small, we're here to help.
.