Effortless
digital signage
Quickly and easily transform any TV into a digital sign with the all-new Cirrus Media Player.

Effortless
digital signage
Quickly and easily transform any TV into a digital sign with the all-new Cirrus Media Player.
How it works
Slim, light, and portable, the Cirrus Media Player makes it incredibly simple to display content on your TVs. All you need to do is plug it into an HDMI port and connect to WiFi. No more cable management and hiding your control system; skip the hardware that controls those devices and set it up within 5 minutes of plugging it in. And with ScreenHub player application already installed, you'll be designing and managing your content in no time.
Purchase your Cirrus Media Player for a one time cost of $69.99 and pair it with a low monthly $6.99 ScreenHub Subscription for an affordable and unbeatably easy digital signage solution.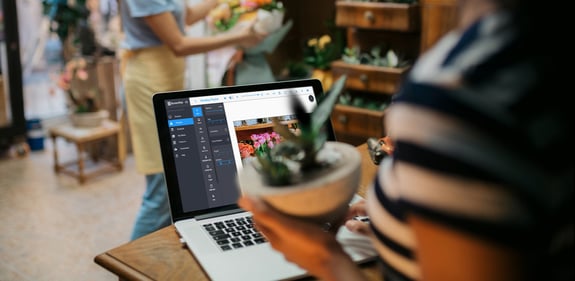 ScreenHub
Manage your sign from anywhere with easy to use cloud-based software.
ScreenHub is our award-winning, cloud-based software that makes managing, monitoring, and scheduling content for your sign incredibly simple. Its easy-to-use interface allows you to access and manage your sign from anywhere, anytime. Now, paired with our Cirrus Media Player, you can turn any TV into an engaging and powerful marketing tool.
KEY FEATURES
Create and schedule content with ease
TOUCH
Easy scheduling and display management
Our user-friendly design tools take the hassle out of content creation whether you're managing one or multiple displays. Craft a message that sticks with your audience and customize schedules for maximum audience impact at the most ideal times.
TOUCH
Free media library and widgets
Cut through the noise and share interesting and helpful content that viewers will immediately embrace. Access high quality images and videos, and choose from useful widgets such as weather, time, live-streaming, news tickers, and more!
TOUCH
Complete security and stability
We prioritize security with our enterprise-grade 2-factor authentication ensuring your displays are always in good hands. Powerful user management features such as role-based access and permission levels give you full control at all times.
What is a Cirrus media player?
The Cirrus media player provides a hardware solution to simplify the process of using ScreenHub. Instead of purchasing and setting up a laptop or PC stick, you can immediately plug this device into the HDMI port of a TV and start using the software. It's a convenient alternative that makes it easy to get started with ScreenHub without the need for additional hardware or setup time.
What do I get with the media player?
- Cirrus Media Player
- HDMI cord
- DC power plug
- Remote control
- Two AAA batteries
What TVs or monitors are compatible with the Cirrus Media player?
The Cirrus media player is generally compatible with standard 1080p and 4K TVs, but its compatibility may depend on the specific TV model and settings. To ensure the best viewing experience, it is recommended to input the following pixel dimensions when adding a display on ScreenHub:
- 1080x1920 (landscape)
- 1920x1080 (portrait)
- 2160x3840 (landscape)
- 3840x2160 (portrait)
Does the player support 4K TVs?
To do so, you must access the device and modify the settings accordingly. For further details on adjusting the settings and achieving optimal resolution, kindly contact us at product@cirrusled.com.
Does Cirrus ship these media players internationally?
Our shipping services are limited to the United States, Canada, and Mexico. However, we are considering expanding our shipping destinations to include international locations in the near future.
Is the Cirrus media player required to use ScreenHub?
No, it is not. ScreenHub offers a WebPlayer that is compatible with any Chromium-based browser. Additionally, ScreenHub supports both Windows and Linux operating systems, and you can find detailed instructions for downloading the ScreenHub player at https://v2.screenhub.com/help under "ScreenHub Player Installation."
To download the ScreenHub player, your system must meet the following minimum requirements:
- 250 MB of disk space
- 1 GB of RAM
- 1.5 Ghz GPU
It is recommended that your system meet the following recommended requirements:
- 500 MB of disk space
- 2 GB of RAM
- 2.0 Ghz GPU
What is the Cirrus media player warranty?
Yes, there is a one-year limited warranty included with the purchase. Limited Warranty Terms for Cirrus Media Player:
1. Warranty Limitations: This warranty is only valid for the original purchaser of the Cirrus Media Player and cannot be transferred to any subsequent owners.
2. Warranty Coverage: We warrant that the Cirrus Media Player will be free from defects in materials and workmanship for a period of one (1) year from the date of purchase. During this period, we will repair or replace any defective unit at no charge to you.
3. Warranty Exclusions: This warranty does not cover any damage caused by electrical, water, or heat-related issues. Additionally, this warranty does not cover any damage caused by misuse, abuse, or unauthorized modifications to the product.
4. Warranty Claim Procedure: To make a warranty claim, please contact us at product@cirrusled.com with proof of purchase and a description of the problem you are experiencing with your Cirrus Media Player. We may require you to ship the defective product to us for repair or replacement. Please note that any shipping costs to return the product to us for repair or replacement are not covered under this warranty.
5. Warranty Determination: Determining whether the product meets warranty conditions will be at our sole discretion. If we determine that the product is not covered by the warranty, we will inform you of the reason for the denial and provide you with an estimate of the repair cost.
6. Limitations of Liability: Our liability under this warranty is limited to repairing or replacing the defective unit. We shall not be liable for any incidental or consequential damages arising from the use or inability to use the product.
7. Modification of Terms: We reserve the right to modify these warranty terms at any time. Any such changes will be effective immediately upon posting on our website or notification to you.
8. Other Rights: This warranty gives you specific legal rights, and you may also have other rights that vary by jurisdiction.
By using the Cirrus Media Player, you agree to these warranty terms. If you do not agree with these terms, please do not use the product.