Your on-premise marketing needs to be working full-time to sell your business. From roadside to register, digital signage allows you to do more to engage your customers and capture attention. But the signage alone isn't enough. You need software that helps run your entire network all in one place. You should only need one program to create, manage, and monitor your signs.
What is Digital Signage Software?
Digital signage software is any software that allows you to control your digital signage. It may also be called a digital signage content management system (CMS), but that's a bit of a mouthful, so we'll stick with software. They come with a vast array of features, but the best ones allow you to create content, manage your displays, and monitor their health from one location.
What makes ScreenHub better?
ScreenHub is the result of years of research and is built on the understanding of what users are looking for. From easy-to-use features to security and access, our digital signage software makes all the difference. Because the point of our software is to help you engage more customers, all while being more productive, we are constantly improving and upgrading ScreenHub to meet your needs.
Create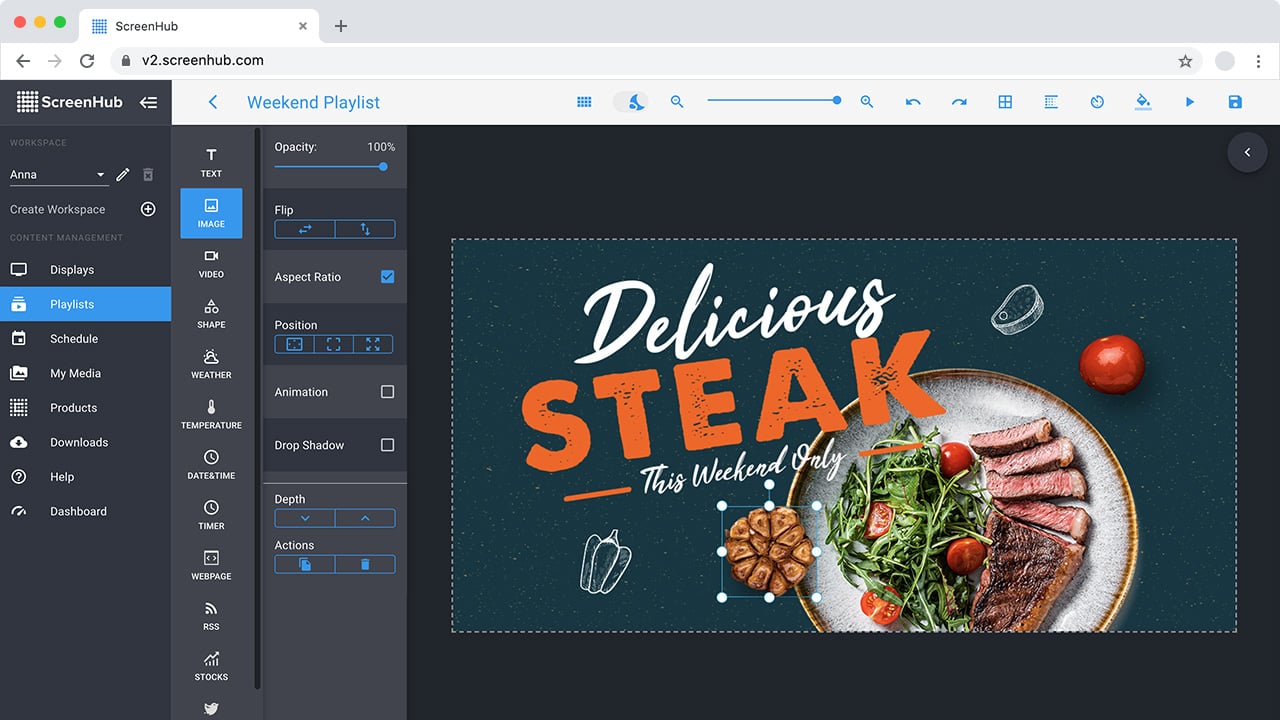 Whether you're an experienced designer or just getting started, we've made an easy-to-use design studio within ScreenHub. You can upload your content or create it from scratch. ScreenHub includes access to stock images and gifs as well as an extensive collection of widgets and integrations. You can create winning content, share a 5-day weather forecast, social media, RSS feeds, and more.
Whether for roadside digital signs and sharing promotions or inside for corporate messaging, our design suite can help you make your message look great and resonate (see what we did there).
Collaborate
Do you have multiple employees working in different locations? ScreenHub makes collaboration with your team quick and simple. If you have multiple locations, you can set up workspaces, so all the screens for each location are grouped together. Or you can group by internal and external signs. Or even by sections of a building if you have a large network. Organize however makes sense to you.
And don't stop at workspaces; invite your team to collaborate. If you're a lone warrior and just want feedback from a friend or have a huge team of content creators, you can provide role-based access to your ScreenHub account and related workspaces. All with the goal of working together to make unforgettable campaigns.
---
Want to learn more about Digital Signage?
Join the monthly Cirrus Newsletter to get the latest trends and information.
---
Manage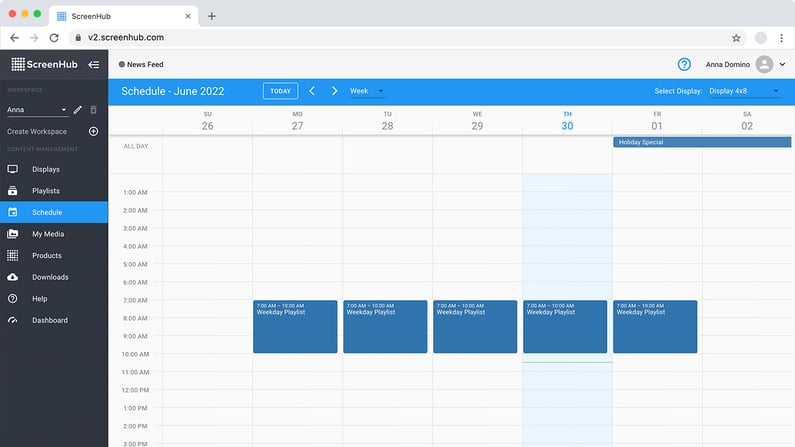 ScreenHub also lets you manage your displays all from one central location. You can set up your content to play continuously or schedule playlists of content to only play at certain times. If you want to show different promotions morning, noon, and night, so commuters see different things all day long – that's easy! If you want to set up special messaging for holidays that stop right after it's over? Simple to do.
We also make brightness scheduling a snap. For outdoor displays, it's important to adjust brightness at night so as to not distract drivers. With ScreenHub, you can schedule how bright your sign is by the time of day so that it's only at full brightness when it needs to be, and you don't have to worry about changing it by the time of day. This helps you be compliant with city ordinances as well as save on power costs.
Secure
Keeping your signage safe from bad actors is crucial as your signage is representing your brand. We ensure your displays are safe by offering two-factor authentication and role-based access. That way, you know who has access to your signs and that it takes more than breaking a password to get in. When used in tandem, these two features keep your signs safe.
Monitor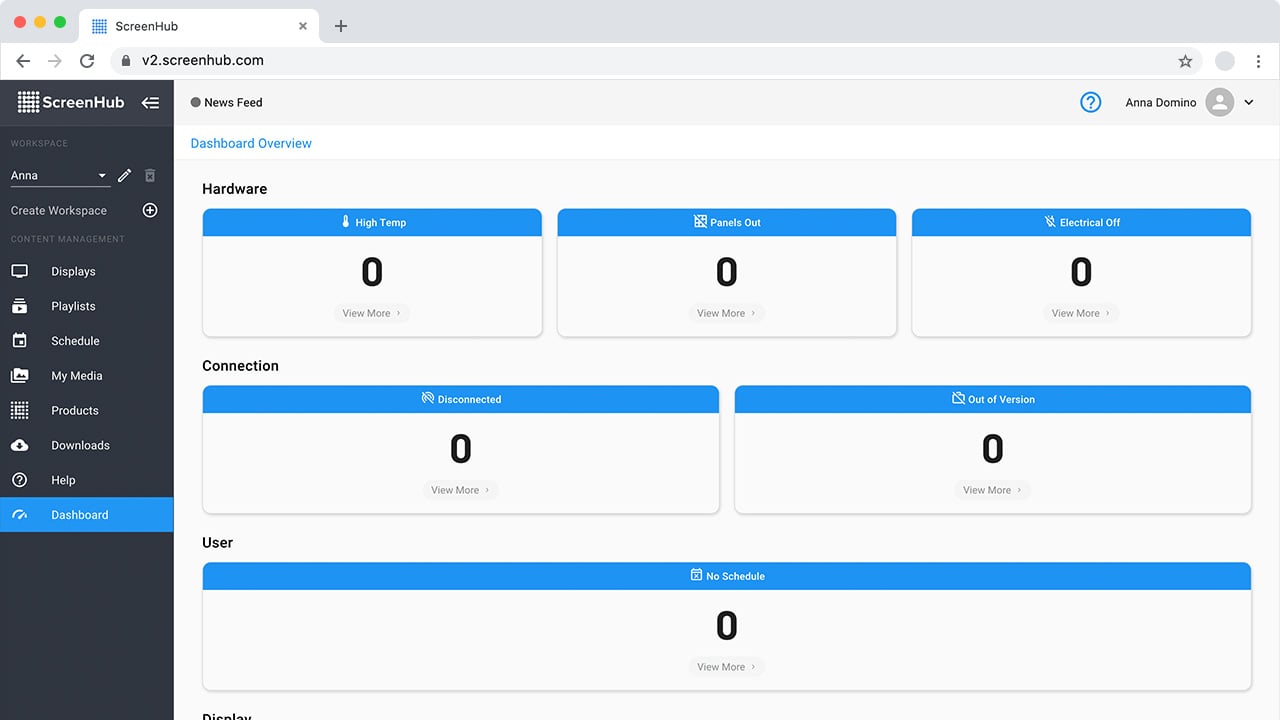 Your digital signage going down or breaking is a nightmare. Knowing when something is wrong quickly can save time, money, and a lot of headaches. ScreenHub offers a health dashboard to let you know if your signage is connected to the internet if there are power issues if there is content scheduled, and more – all from one easy place. You don't need cameras to check your display; just a quick glance at the dashboard can tell you everything you need to know.
It's even better with a Cirrus Sign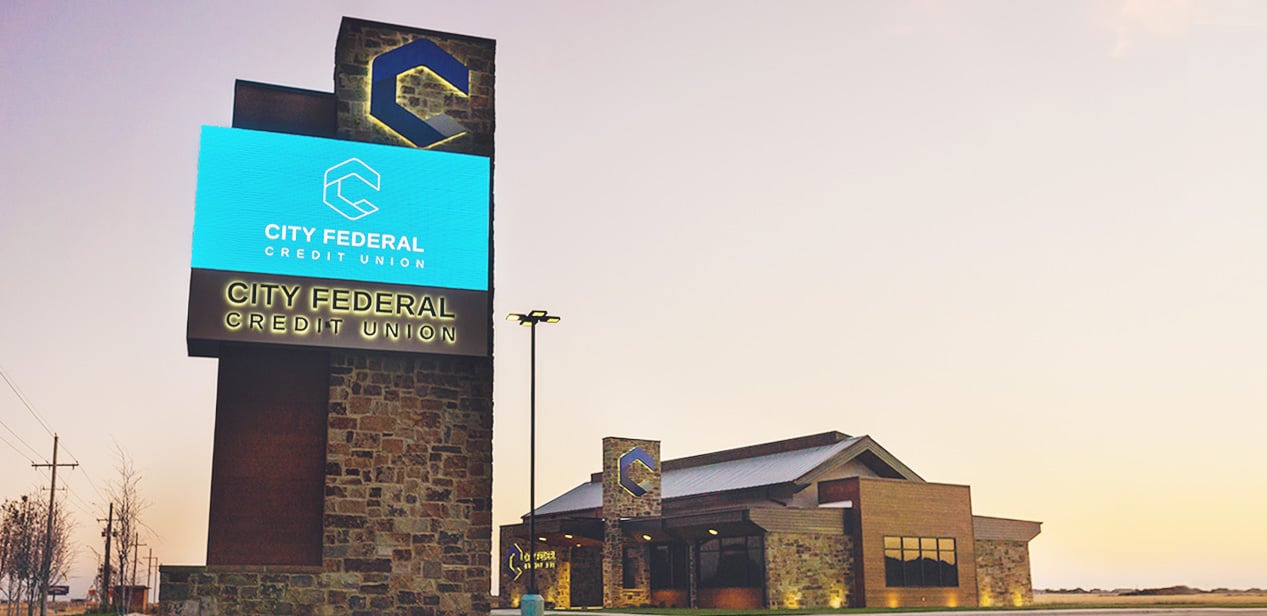 Cirrus digital signage has built-in ScreenHub compatibility making it even easier to know what's going on with your sign. From power cycling right inside of the software to automatic shut down if anything goes wrong with your power, you get a high-resolution display that works to protect your investment from the inside. It will check your sign for issues so our support team can quickly see what went wrong and resolve them. All of this saves you money on costly service visits. Plus, you get the best-looking digital display on the market.
Related: Looking for the Best LED Signage for Business?
And it's free to sign-up
We want to show you that we're not all talk, so we offer a 30-day free trial of ScreenHub. Try it out and see for yourself how much a good digital signage software can change the way you manage your displays. And if you want to talk to us about high-definition digital signage, we're always here to help!