Boost your business with our high-resolution displays
Getting people inside your doors can be a constant struggle. With the digital world drawing so many eyes, attracting attention is paramount to success. Think of a digital sign as a salesperson who never stops working. Open or closed, night or day, your LED sign is working for you. When you couple that with beautiful images to showcase your offerings, most businesses see an increase in sales of 15% to 150%. Try our digital signage ROI calculator to see what revenue you might be leaving on the table.
The future of LED Displays is here
The newly redesigned Outdoor Panel is the next generation in LED display technology that allows businesses to compete with other brands. The culmination of over two years of research and development, this generation of Outdoor Panel displays offers a variety of features that are industry firsts.
Stronger contrast and visibility in any lighting condition


New module design increases perceived brightness and contrast to protect your messages from being washed out

Reduce installation and overall energy costs


Drawing 45% less power than prior versions and any competitor not only reduces utility bills month over month for sign owners

but also dramatically reduces the cost of installation by eliminating the need for additional circuits and utilities.
Smart sensors and monitoring keep your display up and running
Combined with our screen management software, Screenhub, allow the panels to monitor and report anomalies in power or operation, calling on support or users if needed.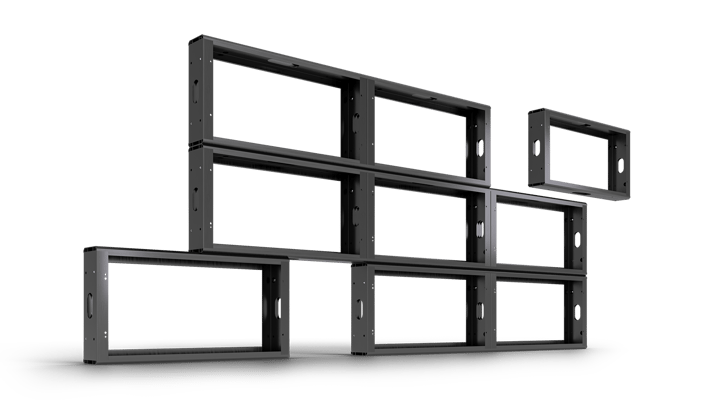 MODULAR SOLUTIONS
Signs as unique as you
From the standard to the extraordinary, our displays can do it. When you purchase a display you want to create not just a sign, but a visual experience that makes your business stand out and brings people in your doors. Because our displays are modular, the only limit on what you can do... is you. If you dream of a tall, poster-style sign, or a thin sign that circles your entire building, our modules will make it a reality. Stand out from the crowd and wow your audience.
Stunning 4mm, 6mm, 9mm or 12mm display with edge to edge, high-resolution full-color picture or video
Built tough to weather any environment with an IP65 rating and solid-state technology.
Ships within days and for a fraction of the cost