Digital advertising is becoming a popular method of advertising and marketing for businesses. Outdoor signage can be displayed on billboards, bus and train stations, outside businesses and many other areas to attract potential customers.
Here's everything you need to know about outdoor digital displays.
What are outdoor digital displays?
Outdoor digital signage includes LCD and LED digital displays that are able to display text, video, and audio. Widely used for outdoor advertisement and broadcasting, outdoor digital signage boards can run 24/7 without any interruptions. With weather-resistant displays and ads optimized for quality, outdoor displays are able to display rich and engaging content, attracting potential target consumers. Controlled by cloud-based software, outdoor displays can be updated all at once with the click of a single button.
The key features of outdoor displays are:
Network functions that allow data to be uploaded and downloaded
File management systems
Program play analyses and video output
Automatic switch on/off
Split-screen and zoom-in features
Local download in which media can be received through the network, stored locally, and displayed on the board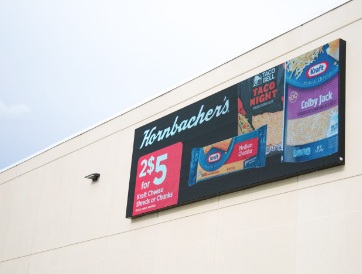 What are the benefits of outdoor displays?
Digital signage boards are able to pique a consumer's interest and attention. With bright and vivid colors, digital displays are a huge boon for businesses as they can be used to attract passersby. Digital displays that use video content and leverage motion are able to get 400% higher views than traditional displays.
Additionally, digital displays are a great way to get your brand's message out there, especially if you're a small business. LED signs are able to influence consumer purchasing behaviors, and have a higher recall and retention rate than their traditional counterparts.
Lastly, digital displays are an inexpensive way to get your message across, especially if you're a small business. Though they require capital investment at first, digital displays help you cut down on overall marketing costs over a period of time and have much higher longevity than traditional advertising. As a result, you can easily save on expensive advertising campaigns, printing costs, and much more.
Get digital display software at Cirrus LED
Cirrus has powerful digital display software and ultra-high resolution outdoor LED displays. As electronic display manufacturers, we've got outdoor digital signs for churches, restaurants, retail stores, and more. As one of the leading digital display and software companies, we've got full-service solutions for all your digital signage needs. Reach out to one of our signage experts and we can help you get started.