Gone are the days of overlooked, old-fashioned static window posters. Whether it is for a big sale, a short-time promotion, or a seasonal event, printed posters are not only outdated quickly; they are costly. Additionally, they can be hard to see in direct sunlight, causing your business to miss out on revenue opportunities. So what can you do to make your windows work harder and get noticed? Have you ever considered an LED window sign?
Next time you are out, take a look around and see what catches your attention. Chances are, you may see a digital LED window sign. Easily seen from a considerable distance, these eye-catching signs share multiple messages and promotions in beautiful, bright, full color and motion graphics. But is it right for your business? And what are the real benefits of switching to a digital window poster?
One Place, All Your Promotions
An LED window sign can put all your promotions in one easy-to-see place. Maybe you own a restaurant and you want to cycle between your specials, menu, drinks, and images of your amazing food. Or perhaps you're a real estate agency and you want to show off some of your best properties. An LED display means you don't have to keep printing for every item. You can give them each a bright, colorful slide to increase sales or participation.
When you use a digital window poster with a quality content management system, you can access your content whenever you want. You can schedule your content days or even weeks in advance, and start it up whenever you're ready. This means you don't have to worry about printing or shipping costs, your content is right there as soon as you've designed it.
If you want to see what a content management system can do, ScreenHub offers a 30-day free trial and has an easy-to-use design studio -- no experience required -- where you can test out content and see what it might look like on a digital LED poster. You can even upload your own designs. We recommend setting the screen size to 2'x3' to ensure you're setting it to poster size.
---
Want to learn more about digital signage?
Sign up to get tips and best practices every month with the Cirrus Newsletter!
---
Can Save you Time
We all know time is one of the most frustrating things we deal with in our day. You only have so much of it before you need to shut the doors for the night. You need to get your signage designed, and in the window in time for that product launch or sale.
From the moment you begin the design, to when it arrives, there can often be a lot of time involved. When you order your sign, it can take days to arrive, you need to unpack it, and hang it in the window carefully to avoid wrinkles, tears, and uneven display. Every step eats time. These are hours and even days when you could have been sharing the message without all the waiting. And with shipping delays due to supply chain breakdown during 2021, it can take longer than expected for signs to arrive.
With a digital LED window sign the moment you design it, you can have your content live. This gives customers more time to engage with your offers and gives you more time to focus on other things.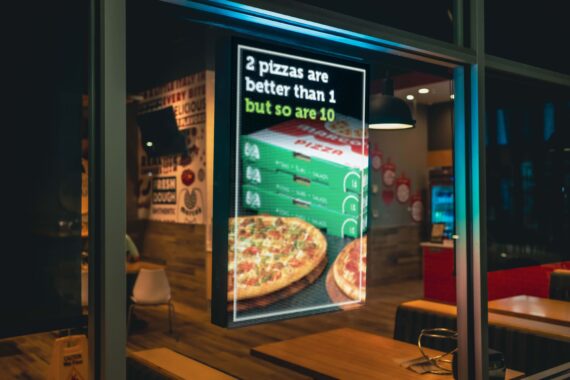 Can Save You Money
For many companies, window printing can cost hundreds to thousands of dollars a month. For organizations spending over $100 every month, it might be worth taking the time to examine the alternative. And remember, one digital window sign can take the place of multiple posters, which could allow you to do more in the same amount of space.
Depending on how much you budget for signs the savings could let you spend more on other ads or even better designs for your digital sign. Running the numbers against a quote is a good place to start.
Can Make You More Sustainable
If one of your business goals is to be more sustainable or to cut down on paper usage, window posters need to be part of that strategy. Every time you print, trees need to be felled for the paper, which contributes to deforestation. Your posters must be packaged, which requires more paper products. Then they need to be shipped to your business or organization. Which could be hundreds of miles of transit or more depending on where your printer is located. Then you throw out the old ones and do it all again next time you need new signage. Over and over into infinity. It's a circle that constantly creates a lot of felled trees and a lot of pollution.
If you choose to go with Vinyl window clings you can add one point on the circle -- vinyl doesn't biodegrade. This means not only are you printing, shipping, and throwing them away every time. You also are adding to long-term landfill waste that won't go away.
A digital window sign can reduce this footprint. While there is an upfront cost for producing the sign, it lasts years without replacement. In many cases, an LED window poster can last a decade and still look sharp. While they do need to be plugged in (and that takes energy to keep them powered), some signs can be dimmed at night, reducing the power draw to only use what is needed. By housing your content in the cloud, and putting it directly to a digital window poster, paper and shipping can be removed from the equation.
So is an LED Window Sign Worth it?
Always start by looking at your budget. See what you're paying for your window signage now, and measure it against the cost of an LED window sign. This will help you understand the impact on your budget over time. If there are more promotions you wish you could run, but you did not have the budget or window space to include, consider including these numbers in your calculations. If you decide to move forward on a digital LED poster, you will now be able to showcase multiple products on the same real estate. So you could take on some of those projects you couldn't afford or didn't have space for.
If you're looking to realize the above benefits, a digital window poster may be right for you. If you want to learn more, we're always here to help. You can contact us to speak to a signage expert, who can help you get started. As electronic display manufacturers, we've helped many companies weigh the benefits of an LED window sign.