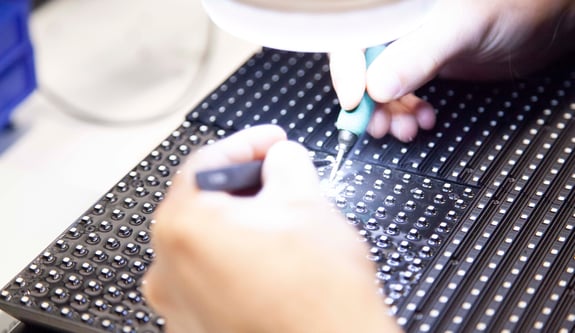 Why Cirrus?
What makes businesses choose Cirrus LED displays?
Our core focus is to provide our partners with the best experience. Our team is devoted to delivering high-quality LED displays and reliable customer support to help your business reach its fullest potential.
We understand that your success is our success, which is why we prioritize building and strengthening relationships with our sign partners. We are proud to partner with knowledgeable sign shop experts across the US and Canada who specialize in local laws and regulations. Our partners are familiar with Cirrus products and can provide you with the perfect sign for your business.
What makes businesses choose Cirrus LED displays?
Manufactured in NH
More savings
Easy installation
Fast shipping
Manufactured at our production facility in NH
To provide our customers with the best product possible, we have invested in the most advanced SMT line in North America and use only the highest quality globally sourced parts. Our state-of-the-art facility allows us to increase our production and reduce defects, so you can be sure that our products meet the highest quality standards. Furthermore, this robotics line enables us to provide our customers with the best quality products at a competitive price.
Save on energy bills and installation
Cirrus' Outdoor panel offers significant energy savings compared to prior versions and competitors, reducing utility bills and installation costs. In fact, the panel consumes only one-third of the power of comparable SMD screens. Sign owners will benefit from lower power bills, less heat, and a longer display life.
Cirrus makes installation simple
Our lightweight displays are designed with convenience and savings in mind. Our displays are 40% lighter than the competition, making them easy to install and requiring less infrastructure for support. Plus, our lightweight displays are perfect for retrofits, allowing you to replace signs with less costly structural changes. All of this adds up to make your installation fast and easy.
Shipping in days, not months
We understand the importance of getting products to our customers quickly. By implementing systems that enable us to ship our products within days of order processing – compared to the months of many other suppliers – we are able to save our partners time and money.
ScreenHub
Manage your sign from anywhere with easy to use cloud-based software.
ScreenHub is our award-winning, cloud-based software that makes managing, monitoring, and scheduling content for your sign incredibly simple. Its user-friendly interface allows you to access and manage your sign from anywhere, anytime. Plus, we offer free lifetime training to sign owners so that you can maximize the impact of your sign.
A robust warranty to keep your sign protected
Cirrus provides a five-year hardware warranty backed by the best pixel warranty on the market. To ensure complete coverage, we also provide an optional 5-year Cirrus Complete labor warranty for added peace of mind. With these three components working together, you rest assured that your sign is fully protected.
World-class support when you need it
At our core, we strive to provide you with the best product and support possible. Our highly experienced support team is knowledgeable in all aspects of our product, from software to display, and can quickly identify any issues you may have and provide an effective solution. With the shortest support wait times in the industry, you can have confidence that you will be back up and running in no time.
Partner support in the field
To help our partners succeed, Cirrus created a first-of-its-kind partner support program. Our Field Support Technicians (FSTs) are here to help our partners with a variety of services, from advice and solving problems to properly installing our products. This team provides ongoing education to make every installation successful. With our experienced and knowledgeable technicians, you can be sure that your organization will be able to use our products with confidence.