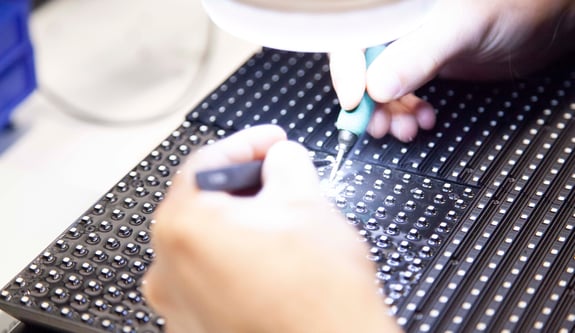 Why Cirrus?
Why choose Cirrus LED Displays?
Aside from the fact we make the best LED displays on the market, powered by the world's most powerful marketing software, we are also incredibly dedicated to ensuring our customers have the best experience as well.
Our goal is to see you succeed
We do this by delivering personalized and premium customer-centric services to meet your specific needs. From working directly with premier sign shop networks to our dedicated internal customer service and tech support teams you can rely on us to make your journey easier every step of the way.
Revolutionary Technology
Our technological expertise, passion for developing new technologies, and the ability to continue to explore and create new innovations set us apart.

Cirrus Modules are produced on the most advanced SMT line in North America using state-of-the-art robotics and engineering to ensure precision in every module we manufacture. This consistency means you can be confident that your display meets your expectations of receiving the highest quality hardware.

Advanced solid-state technology powers our modules. They have no moving parts or wires to simplify and remove points of failure. That along with built-in artificial intelligence to constantly improve performance means you can count on your display.

Grow with you using our patented modular system. You can easily add to an existing display, or upgrade to a higher pixel density at a later time without the stress of buying an entirely new sign.

Simple Content Management with ScreenHub our hardware-agnostic digital signage software you can manage your content and monitor the health and performance of every single Cirrus display you own from anywhere.
Innovation is in our DNA
We don't do things just because "that's how they've always been done." We are constantly seeking to innovate and find new and better ways to serve you. Our award-winning hardware and software show our commitment to this principle and we will continue to push the boundaries of what is possible with on-premise marketing.
Exceptional Quality
We bring you the highest quality displays to deliver real business results, and we back that claim up. We offer a 5-year hardware warranty on every display with an optional 5-year peace of mind service warranty. In addition, our LED displays deliver 281 trillion colors for striking visual detail and a 100,000-hour plus lifespan. Our displays are IP67 rated, front and back, the highest in the industry, which means they're completely sealed, to protect against everything mother nature can bring.
Complete on-premise Marketing solutions
We believe signage is a powerful marketing tool, and so we made an intuitive cloud-based content management system to harness that power. Screenhub is free to any Cirrus Sign owner and comes with lifetime training and unlimited support, corporate programs for national brands, and a low-cost subscription option.