Become a partner
Our displays will make you unstoppable in your market.
It sounds like a big claim, but we have the displays to back it up
We help you penetrate the digital signage market by offering a higher definition product, for less, without compromising quality. By using the most advanced manufacturing processes in the industry we can bring you higher resolution displays for a lower cost. Our displays are made in New Hampshire with globally sourced components, so we can double-check quality every step of the way. We provide sales support, leads, live sign demos, and more to our partners so you can sell more, without adding headcount.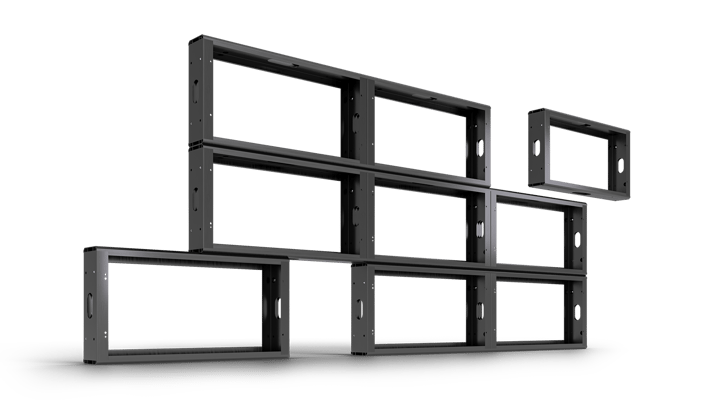 Deliver extraordinary displays
From the standard to the extraordinary, our displays can do it. Because our displays are modular, the only limit on what you can do... is you. If your customer dreams of a tall, poster-style sign, or a thin sign that circles their entire building, our modules will make it a reality. Stand out from the crowd and wow your audience.
All at the lowest cost per pixel, guaranteed.
High resolution
Stunning 4mm, 6mm, 9mm or 12mm display with high-resolution full-color picture or video
built to last
Built tough to weather any environment with an IP67 rating and solid-state technology.
Fast delivery
Ships within 2 - 3 weeks and for a
fraction of the cost
Lightweight
At 5.2 lbs. per square foot, Cirrus displays are 50% lighter than the competition
Screenhub cms
Expert designer to beginner, e
asily move elements around the screen; enlarge, shrink, rotate, animate content; play around with all the possibilities. Plus, manage and schedule your content.
Serviceability
In the rare event of modular issues, panels can be swapped out in 60-seconds
"
We have placed several of these units throughout New England with many more in process. Our clients love them and they look great really enjoy the ease of running the software. The bleedless faces and being built here locally in New Hampshire makes working with Cirrus an easy and simple process.
"
"Partnering with Cirrus LED Displays has taken our company to the next level. Our customers love their easy-to-use web-based software and stunning clarity. Their technology is light years ahead of any other EMC on the market today at a competitive price. For Smart Signs, it's a no-brainer!"
"
Our company has been selling the Cirrus brand LED systems for several years. We have experienced great success with them. We received two major hurricanes within 6 weeks of each other and all of our units came through with flying colors due to the way that they are made with the enclosed system where the elements did not get to the workings of the boards. And if the unit got hit by flying debris we were able to just replace that one section without replacing the whole board...which made it more affordable for the client. Kurtis has been such a great go-to person for all of our needs and has taken great care of us. Looking forward to many more years of working with them!
"
"
For some time our Sign Company searched for a partner to bring reliable Electronic Message Centers to our customers. CIRRUS does this very well, but also solved three problems our customers have: Training not just when sold, but even later when staff changes; Ease of Operation not just nearby the site, but with a phone from any location; and Monitoring Service that not only fixes problems remotely but can cover parts and Labor if needed.. Maybe their best feature is that CIRRUS offers a chance to upgrade existing hardware and software after technology advances. Who does that? We also found that the Sales Staff and their Customer Service staff were available, responsive, and genuinely helped when needed.
"
"
Can't say enough about the quality and customer service we have received from Cirrus. We have purchased several Cirrus LED displays and have had virtually no issues. Any issues we have encountered have been addressed quickly and with a smile on their face. Happy campers over here!
"
"
Cirrus has been nothing but professional, prompt, and compassionate about every LED sign project we have had with them. Service has been excellent for setup, training, and troubleshooting. Great people to work with.
"
"
We only sell Cirrus systems displays and that is for one reason, their customer service is OUTSTANDING. They communicate with the end-user to train them, offer tech support, and are always there to answer any questions. This takes us (the sign supplier) completely out of the equation. Set up is quick and easy. In the past, we have offered other digital displays from overseas and while they are cheaper, they offer no tech support whatsoever. It's been our experience that the customer is willing to pay more to have a great quality product with an even better support staff to back it up.
"
Why choose Cirrus LED Displays?
Aside from the fact we make the best LED displays on the market, powered by the world's most powerful marketing software, we are also incredibly dedicated to ensuring our customers have the best experience as well.
Customer-Centric Team & Culture
Each and every process starts and ends with our customer satisfaction in mind. Our concierge-level sales team work with our premier local sign shop networks and dedicated internal customer service and tech support teams to deliver a personalized and premium service to meet our customers' specific needs.
Advanced Technology Focus
Our technological expertise, passion for developing new technologies, and the ability to continue to explore and create new innovations set us apart.
BladeM is produced on the most advanced SMT line in North American using state-of-the-art robotics and engineering to bring you the most powerful hardware in the market.
Advanced solid-state technology with no moving parts or wires in connection with modules that have a high-speed microprocessor with artificial intelligence built in to constantly learn and improve performance.
Future-proof modular applications allow you to easily expand existing displays and keep pace with the changing world of new technology as your business grows.
ScreenHub is a hardware-agnostic content management web application software that manages content and monitors health and performance 24/7 on every single LED module in our network.
Innovation is in our DNA
We believe in the power of Innovation to make lives better. Therefore, we strive to innovate and consistently seek new and better ways to serve our customers. Award-winning hardware and software. We continue to be recognized by industry leaders in the Innovation Category.
Exceptional Quality
We bring you the highest quality displays to deliver real business results. We offer a 5-year hardware warranty with an optional 5-year peace of mind service warranty! In addition, our LED displays deliver 281 trillion colors for striking visual detail and a 100,000-hour plus lifespan. Our displays are IP67 rated, front and back, which means they're completely sealed, protected against the effects of long periods of dust and water immersion.
Additional Value-added Services
We offer additional value-added services to help you grow your business. Some examples of these services include:
Free

ScreenHub

cloud software with lifetime training and unlimited support

corporate programs for national brands

low-cost subscription options

And more
Get more information on becoming a Cirrus Sign Partner