Experience Quality and Reliability with Cirrus's Cost-Effective LED Signs
After over a decade of extensive research and development, Cirrus LED has produced a powerful sign that is cost-effective to run. Our signs are designed and constructed with the highest quality materials on the most advanced SMT line in North America, providing you with the best value for your money. Moreover, with Cirrus Complete hardware and labor warranty, you can rest assured that your sign will last for years. When you are ready to invest in an LED sign for your business, choose Cirrus LED for the assurance of quality and reliability.
Cirrus 9mm Display
4x8 Double Sided
3-minute average hold time
Support
Ships to installer in days
Shipping
Yes.
5-year hardware warranty

Hardware Warranty
Yes. (included)
5-year labor warranty
Labor Warranty
Competition's 16mm Display
4x8 Double Sided
Long support wait times
Support
20-25 week lead time to installer
Shipping
Yes.
5-year hardware warranty

Hardware Warranty
No. (optional)
Average
$70/month

Labor Warranty
Innovative technology to keep your sign running longer.
LEDs can be quickly degraded by heat and dust, and the hotter your display runs, the faster it will fail. To avoid this, Cirrus LED Displays are designed to run cooler by consuming less energy and require only basic ventilation, without the need for components like fans that can easily break down. With Cirrus LED, you can enjoy a reliable, long-lasting display.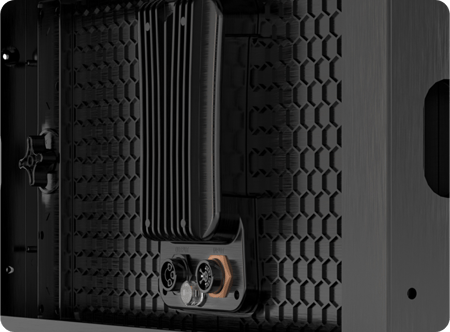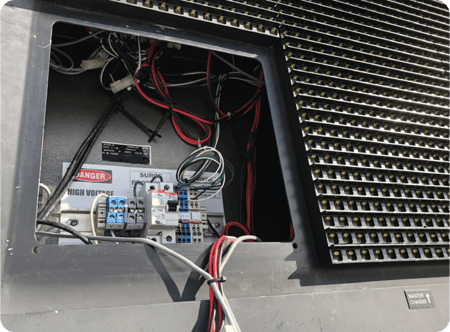 Runs continuously cool at 30 Watts/SF

45% less energy consumption than previous models
Stays cool with simple ventilation
No fans or moving parts
Burns over 65 Watts/SF hotter

Higher energy consumption per pixel
Runs hot and requires fans to keep the sign cool
Requires fans and wire connections that can fail
Our lightweight design makes installation easier and more affordable.
Our lightweight and modular signs are incredibly easy to assemble, helping you save thousands of dollars on installation. Plus, their lightweight design make them the ideal solution for replacing and retrofitting old, broken signs and reducing the need for costly additional infrastructure or electrical work.
Cirrus LED Displays - 9mm Double Sided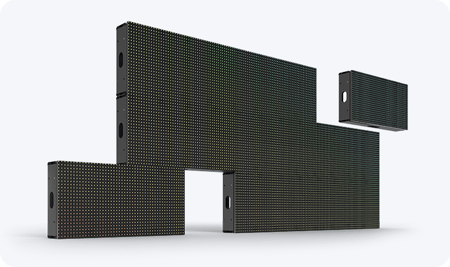 Competitor - 16mm Double Sided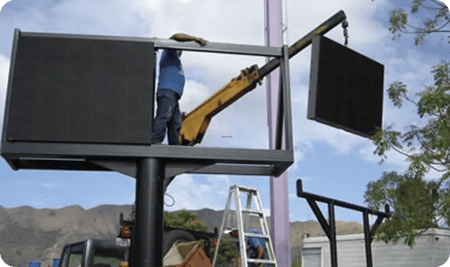 Weight 346 lbs.
Light enough to allow for retrofits on existing structures
Weight 815 lbs.
Usually needs additional heavy equipment
and infrastructure, increasing installation costs
We remove unnecessary stress from installing a sign with our
0% interest subscription program and white glove approach.
At Cirrus LED, we make it easy to get the perfect sign for your business. Our experienced team takes the hassle out of the process, providing an effortless experience from start to finish. That way, you can rest assured that you'll get the perfect LED sign and can get back to focusing on what really matters -- running your business.
Provides quality installer
0% Interest Subscription Program
Financing
Traditional financing with interest
Financing
✕
Subscribe To Own Your HD Digital Display
Now with 0% interest and low monthly payments.
Learn More Here